Next Generation Swing & More!

It's a Night Out on the Town...


THIS IS AN UPSCALE EVENT

...SORRY NO...

FRAYED / RIPPED / FADED JEANS
SHORTS...NOVELTY-Ts
HOODIES...SKULL CAPS
YOGA PANTS...FLIP FLOPS

Shoes Must be Worn/No Bare Feet

DRESS TO IMPRESS

You're attending a Social Dance...
Not a Tailgate Party

This Swing Dance is reinvented to..."NOW"
Keeping the Essence of..."THEN"

The music is Swing Dance style...

Featuring the sounds of:
"Glenn Miller" "Tommy Dorsey"
...and more!

Mixed in with todays style Big Bands:
"Big Bad Voodue Daddy" "Brian Setzer"
...and yes more!

Playlist will also Feature...
Two of Each throughout the Night
Salsa, Cha Cha, Mambo, Rumba, Tango, Waltz, Foxtrot & Hustle

This music along with clubs lights takes you to...
The Next Generation Swing!

It's a modern take on a long gone era.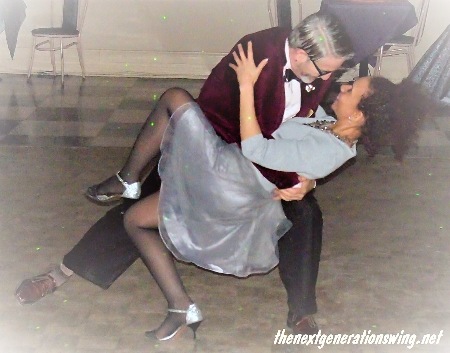 With the added Panache...
Next Generation Swing Night & "More"
...Is a Night Out to Dress Up for!

"Big Bad Christmas Party"

December 16, 2018

Bring in your favorite...
"Christmas Snack"
...for the Buffet Table

Hamlin House Mansion
432 Franklin Street - Buffalo, NY

American Legion Troop I No 665

7:00 - 10:00pm

Don't Dance!...Can't Dance!
7:00-7:45pm

Free (w/adm) Semi-Private Lessons...
In the practice area of the Ballroom.
Tag up w/Chazz he will get you started on the "Basics"

E
I
G
H
T
E
E
N

Y
E
A
R
S

Buffalo's Original Revival Swing Dance

NGSD "Swing Night" 2018

January 28
February 25
March 25*
April 22
May 27*
June 24
July 22
August 26*
September 23
October 28*
November 25
December 16*

<= *Theme Parties
<= Click Heading on Side Bar

Class with Brass-Lets start a trend.

Ps: This "trend" is not just for going out dancing.
When out in public...It's not always a tailgate party.

Like us on fb: The Next Generation Swing Dance

Thanks for swingin' by!

<<< For Private Lesson info & more click headings on side bar or call

716-876-9097